Senior Member
Join Date: Nov 2003
Location: Grafton O-HI-O
Posts: 115
Where can I get some info on some Yammy 340 sleds? I am looking to get my son a sled for next year. Is there a site with pictures and information on these sleds?
---
1996 Yamaha VMAX600
1988 Polaris Indy Trail(ASPRIN SLED)
2003 KTM 625SXC
1970 Road Runner 440+6
SO MANY TOYS...SO LITTLE TIME
Here is a pic of a 1990 Ovation Deluxe we just sold a couple of months ago.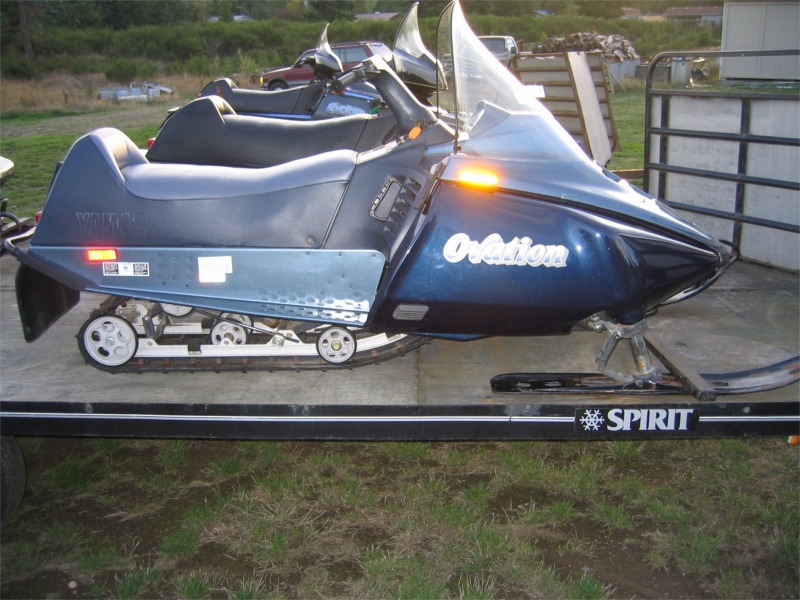 Ovations stayed pretty much the same from when they first came out in 1989 until they quit making them in 2000, and there was a standard model with pull start and a deluxe model with electric start. They only made the standard model from 89-90.
Go
here
for a spec page for a 1999 Ovation LE at Amsnow.
The Ovations are a great beginner sled, especially the deluxe model LE with electric start. We kept ours since it was new until recently just for a spare sled for beginning friends and the kids until they wanted to move up to something bigger and faster. They are great trail sleds and will pretty much keep up with everything else on the trail, top speed is in the 50-60 mile range. The windsheild is nice and big to help keep beginners warm, but the track is too short for any heavy off trail use as the track is only 108" long. Also the sled is not so small that a adult couldn't ride it, my Mom used to ride our Ovation all the time and really liked having the big windsheild to keep warm.
Also the sled was very dependable and we never had any problems with it in the 13 years we owned it.
---
2003 Mountain Viper
2002 Viper 144" longtrack
2001 MM600
1994 Vmax 600 136"
1989 Exciter 136"

Sisters Family sleds
2 - 2002 MM700
1996 Vmax 600 136"
1992 Exciter 136"
1990 Phazers 136"
Senior Member
Join Date: Nov 2003
Location: Grafton O-HI-O
Posts: 115
Thanks!
---
1996 Yamaha VMAX600
1988 Polaris Indy Trail(ASPRIN SLED)
2003 KTM 625SXC
1970 Road Runner 440+6
SO MANY TOYS...SO LITTLE TIME
Posting Rules

You may not post new threads

You may not post replies

You may not post attachments

You may not edit your posts

---

HTML code is Off

---