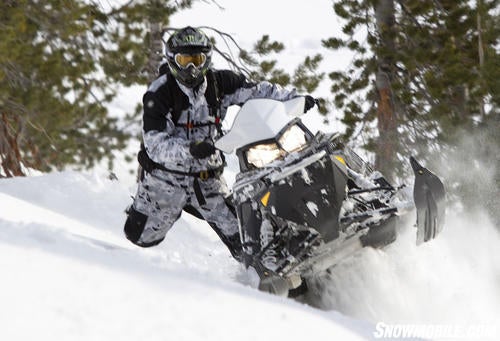 Looking at Polaris over the past few years and you notice one simple fact, Polaris builds superior product that snowmobilers want. How else can you explain the fact that when Polaris once again built a mountain specific snowmobile with power, handling, lightweight and competitive pricing, powder riders gobbled them up leaving this flatland Minnesota-based sled builder with an astonishing market share that the company claims makes its 800 Pro-RMK the number one seller in the segment, if not all of snowmobiling for this snow season.
As Polaris snowmobile division's Chris Wolf sees it, give snowmobilers what they want. The credo for developing the popular RMK series seems simple, but not all sled makers can make it work. Polaris engineering bases its RMK developmental philosophy on three basic tenets: Make it light. Make it simple. Make it work.
Heading into 2013 Polaris gives you an early glimpse of what may make other powder sled builders cringe. The 2013 800 Pro-RMK 155 weighs a claimed 417-pounds! That's keeping it light.
More:
2013 Polaris 800 Pro-RMK 155 Preview
on Snowmobile.com