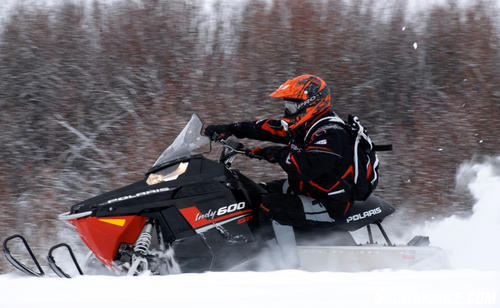 Back when
Polaris
laid claim to being the Number One selling sled company, the Indy led the way. It came in many versions and often served as the first sled that many of today's riders ever rode. It was legendary as a racer and it came to dominate both ovals and cross country terrain like few sleds ever have. It was iconic and it gave Polaris snowmobiles an identity that carried the company from Sno-Travelers to the Rush.
For 2013 the Indy returns, filling a narrow product niche that falls between the budget-based
Shift
and the
Rush
. With the fan-cooled 550 Shift priced at US$6,399 and base 600 Rush just a buck under 10 grand, the 600 Indy sits right in the middle at US$7,999. As you'll no doubt note, there is no 600 Shift in 2013. Gone. Replaced by a much better product that is offered in two iterations the base 600 Indy and the 600 Indy SP. The latter is the one you'll want, not because it returns the SP nomenclature, but because it returns better value that makes it well worth the extra bucks.
Click through to read the full story and see video of the 2013 Polaris 600 Indy SP in action.
More:
2013 Polaris 600 Indy SP Review - Video
on Snowmobile.com