Join Date: Apr 2005
Posts: 14
Quote:
Never hurts to keep a topic like this alive. I've been buried , Watched others get buried and watched a friend die in avalanches..We can never be too careful out there people..Common sense is the best safety tool we have---Lets all use it along with all the other tools available to us nowadays
[/b]
Just keeping this one active
Join Date: Jan 2002
Posts: 4,659
Hardcore2, that's why i have kept these topics pinned forever as I don't want them to get buried. No pun intended.
Perm
Join Date: Apr 2005
Posts: 14
Senior Member
Join Date: Aug 2007
Location: colorado
Posts: 100
I've started one skiing. did everything I was supposed to do. dug three pits at various intervals on a similar slope, did failure tests and everything was perfect. I get up there make my cut and a whole slab falls away. even if you do what you are supposed to to they can still catch you off guard.
Junior Member
Join Date: Mar 2011
Location: Globe
Posts: 10
Quote:
Been in four and there is no way of knowing for sure, the first was in a heavily wooded area of large trees Jeff was barley saved, thank God (see pic at top) after being buried under 3' of snow, the middle pic is of his sled. The bottom is a large avalance that chased my son down the slope and surrounded my daughter inlaw and I, we were standing by the far sled. Notice the large trees broken off by the slide. Two weeks later 2 people were killed in the same area. We dont take any chances any more.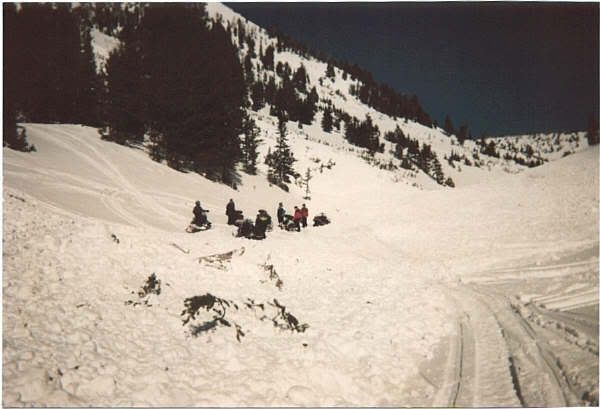 Hi friends. The photos are very nice but the places are very risky.