Join Date: Oct 2001
Posts: 54
Just curious. Talking with some friends tonight we got on the topic of avalaches. Of course someone had been buried and barely survived. It just sort of freaked me out a bit. I personally have none and have no interest of having one, but If anyone has experiences or advice I'm sure we all would like to know and should know. Knowledge is the best protection right. Also, what gear should one carry in the high country. How many of us are prepared to spend the night?
Join Date: Sep 2002
Posts: 269
It would take a book to answer all those questions thoroughly. I have to much experience with avalanches, but it is a part of the terrain that I choose to ride in. The very best thing you can take with you to the mountains is "COMMON SENSE".
Equipment minimum, Beacon, shovel and probe.
Cell Phone.
Rope is nice to have.
Space Blanket.
Liquid Drink (non alcohol)
Matches
FRIENDS, FRIENDS and more FRIENDS never ride alone
35 to 40 degree slopes are the most likely to hold a snow load until it avalanches, unfortunately they are also the most attractive for high marking. During the last 2 sled seasons I lost 3 close friends and a number of acquaintences. None were drinking or stupid.
Before going to the mountains, become proficient with the tools that you are carrying. I remember the first time someone handed me a probe, I did not know how assemble it. Those precious moments that it takes to figure something out could be the difference in life or death of a fellow human being.


RIDE SAFE
Join Date: Aug 2001
Posts: 171
Been in four and there is no way of knowing for sure, the first was in a heavily wooded area of large trees Jeff was barley saved, thank God (see pic at top) after being buried under 3' of snow, the middle pic is of his sled. The bottom is a large avalance that chased my son down the slope and surrounded my daughter inlaw and I, we were standing by the far sled. Notice the large trees broken off by the slide. Two weeks later 2 people were killed in the same area. We dont take any chances any more.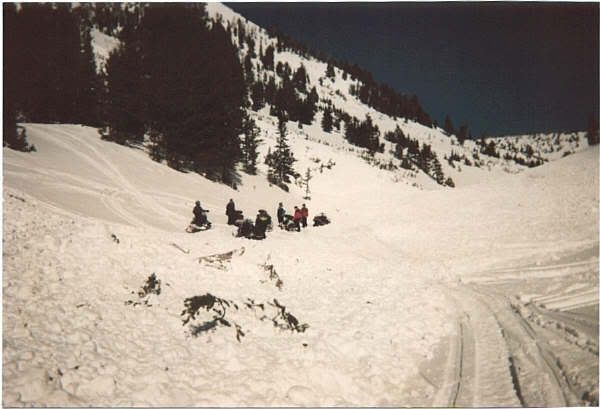 Join Date: Nov 2002
Posts: 5
One of the most informative books available on the subject is "Snow Sense" by Jill Fredstrom and Doug Fessler. These two are the former directors of the Alaska Mountain Safety Center. They are world renown experts on avalanches and are used as technical experts on many skiing movies and documentaries.

Take an avalanche and backcountry survival course. Maybe more importantly, make sure your riding partners take one. If they won't, get new partners. If you get caught in an avalanche, no one is going to come in and save you. It will have to be the guys and gals you ride with. And they have to know how to do it, and do it right.

Equipment for EACH PERSON in the group:
Beacon, Probe and Shovel

Equipment divided AMONG the group:
Space Blankets--Inclinometer
Extra tools (pit shovel and handsaw)
Water--Food--Map--GPS
Candles (heat, light and melting snow), Fire starting kit (magnesium chips...)
First Aid Kit--Signal Aids (The new laser lights are cool)
Cellphone or Radio

Join Date: Nov 2002
Posts: 6
---
The Canadian Avalanche Association has a book called Riding in avalanche Terrain. It is great info for all sledders.
check them out at
www.avalanche.ca
They have all the info that you will need from gear to courses available
Join Date: Oct 2002
Posts: 10
Join Date: Oct 2002
Posts: 64
I agree 100% with OMOTM and Kev, the most important thing you can take into the back country is "Common Sense". Get educated on avalances. I've taken 3 of Doug Fessler's courses and review the info. every year. Take any course that's available to you. Most, but not all the time, Mother Nature will give you the warnings. You just have to know how to reconize and read them. I've been riding the mountains for 24 yrs. and even with the experience I've gained, I've been caught in 3 (one just last year) avalances. Fortunately I was able to run out of the path of 2 and out ran the other. I was just plain lucky not skilled.
The next most important thing is equip. A becon, shovel and probe are a must. I won't ride with anyone who's not carrying. I can't understand how people will go buy a $7000 sled, $1,500 trailer and $500 worth of riding gear but not spend another $500 on equip. that could save their life! I also carry rope and tackle (crevasse rescue) first aid kit, signal device, energy bars and space blanket. This all packs nicely into my backpack.
But don't let all the horror stories scare you. The mountain back country is beautiful and thrilling. (I hate flatlands!!) Just get the training, buy the equip. and use common sense!
Join Date: Sep 2002
Posts: 269
AK riders be advised, this year is already shaping up to be another bad year. Went riding this weekend at Summit Lake and the slides have already started coming down. We came upon a group digging out a machine, luckily it pushed the rider out in front of the slide. It was a relatively small slide, but it doesn't take much to bury you.


RIDE SAFE
Join Date: Nov 2002
Posts: 5
OMOTM, where at Summit were you guys riding? If we don't get some snow soon, I am gonna have to burn up some vacation time and come up to Paxton. I can't remember ever having everything ready to go before the snow hit. Sleds, trailers, new gear, everything but cooperation from Mother Nature...
Join Date: Jan 2002
Posts: 4,659
Posting Rules

You may not post new threads

You may not post replies

You may not post attachments

You may not edit your posts

---

HTML code is Off

---