Junior Member
Join Date: Oct 2011
Posts: 13
New 2012 Grand touring 600 ACE
---
I just picked up my new sled. This is my first 4 stroke and we do not have enough snow to try it out yet. I sat on it and have gone through it to see how to remove panels and how things work. It looks like a great sled and will suit my style of riding. When I first started it up I was getting a alarm that it was not reading the smart chip and I had to wiggle the kill switch socket to clear the alarm and get the engine to run right. This is all new to me and anyone with experience with this machine I would like you comments and advice an all the things to "do and not do" on all aspects of the maintaince and operation of this sled. I have read the owners manual cover to cover a few times. The oil change and most maintaince items listed look doeable by myself just wondering why they say the spark plugs should be changed by the dealer.
I would say spend the money and buy the actual shop manual - mine cost $125 from the dealer but it was the best money I spent on my sled! It will give you the step-by-step how to do everything on the sled as well as give you part numbers for specialized tools. Even if you don't want to do something yourself it will give you a better understanding of the sled and what exactly the dealer wants to do. The first time you decide to do something yourself instead of take it in to the dealer the book pays for itself.
The user manual is almost useless - mine says to take it to the dealer to change the chaincase oil for crying out loud! I suspect (don't know for sure) that your spark plugs are just hard to get to. The DI 2-strokes (e-tec engines) have to have the plug pointed the correct direction (indexed) to work right - the dealer has to have the correct size shim to get the plug pointed the right way at the right torque spec or something bad happens. I don't know if there is something like this going on with the ACE as well.
Was it the kill switch or the DESS cord that you had to wiggle? They can be finicky - I usually just leave mine on the sled and if I do have to take it off I will wiggle it really well when putting it back on. They are also notorious for getting a dime stuck in the socket if you put it in your pocket with a handful of change!
These sleds really aren't that hard to work on if you are mechanically inclined. They are tight and use more rivets than I like to see but if you think your way through it you can usually figure out how things come apart and go back together (shop manual helps!). You can do as much or as little maintenance as you want with the caveat that only a dealer as the equipment to connect to the computer. Last spring I had a check-engine light come on and it cost me $25 for the dealer to hook it up to the computer and pull a report. Really amazing all the info you get out of it though - well worth the money!
Good luck and have fun with it! Show us some pictures when you get a chance.
dave
PS - if you change your own chaincase oil be very careful tightening the bolts back in - they are self-tapping into soft material. In fact you are better off buying a set of 6mm / 1.0 pitch bolts from the local hardware store and replacing them - just tighten to 'firm' with a 1/4" socket driver and no locktite! (That last little bit of advice cost me $70 from the local machinist to have him heli-coil all of my threads). Live and learn...
Here is me replacing the 's-module' after hitting a log a couple years ago. Next summer I am going to replace the 'e-module' - the next part in you can see below - another 'incident' with a stump: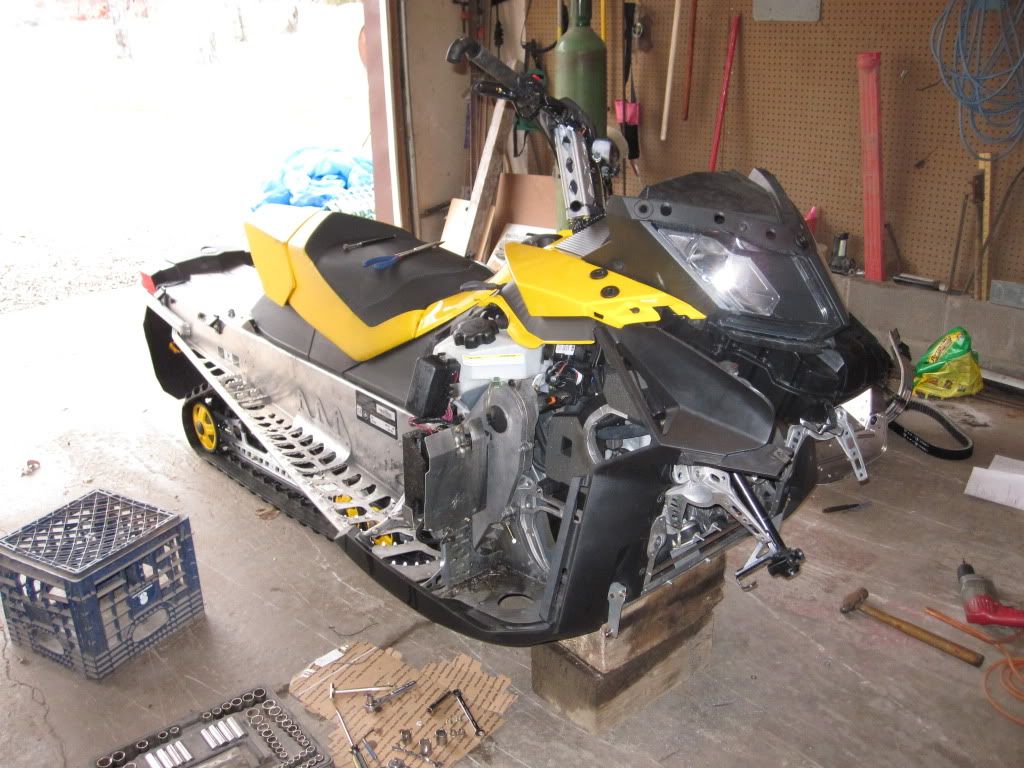 Here is after I took the fuel tank off to check filters:
---
Waiting for snow again...
Junior Member
Join Date: Oct 2011
Posts: 13
Thanks Dlaine, yes I will get a shop manual, we are 3 hours from the closest dealer and do most of my own maintaince. It is the DESS cord I have to wiggle, It starts and I get the not reading chip alarm and wiggle the Dess cord till the alarm clears. Thanks for the heads up on the chaincase bolts.This is the type of info I need. I am new here so dont know how to post a photo yet.
Looks like you had some bad luck with your sled but I bet your know the tear down of your sled now...well done
Posting Rules

You may not post new threads

You may not post replies

You may not post attachments

You may not edit your posts

---

HTML code is Off

---