Discussion Starter
·
#1
·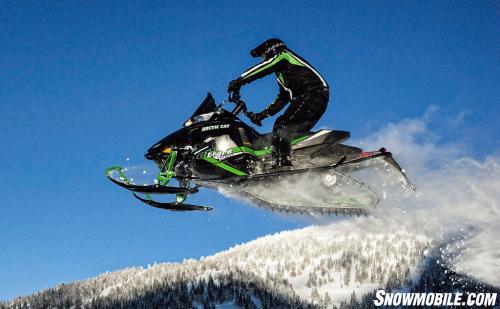 Arctic Cat offers four performance flavors for its 2016 El Tigre models, from very trail capable 130-ish horsepower versions up to a brutish 177 horsepower model with a turbocharged 1056cc four-stroke twin. We suspect the popular choice will be the El Tigre 6000 with Cat's own engineered and manufactured two-stroke dual injection C-TEC2. The Arctic Cat ZR 6000 El Tigre provides traditionalists with the famous El Tigre name that first defined Arctic Cat performance in the 1970s. Not the most potent trail Cat in the 2016 ZR line up of Procross chassis models, the 6000 El Tigre is still fully qualified to wear the El Tigre brand.
The star El Tigre model from the mid-1970s was the Kawasaki powered El Tigre 440 with its dual-sparkplug two-stroke twin. It was a true performance sled and may have been the one that began Cat's performance legacy that carried on through Wildcats, Firecats, Z-models and back to the El Tigre once again. The 1970s era El Tigres were nimble and strong trail runners. The 2016 6000 El Tigre is that as well, but much more civilized for today's more demanding riders.
2016 Arctic Cat ZR 6000 El Tigre Action
While most El Tigre owners likely will spend days piling on trail miles, it's good to know that this Cat can handle big air if necessary.
Arctic Cat designers invoked original El Tigre heritage by carefully styling the modern version in similar black and Cat green hues. The modern "Tiger" channels the look and presence of the original, but with very modern and key differences. Where that high performance Kawasaki 440 twin hit the trails with strong power for its day, it was less than half of what the 2016 6000 El Tigre brings. The unique Arctic Cat C-TEC2 599cc, liquid-cooled, two-stroke puts more than 125 horsepower to the trail.
COMPARISON: Read our review of the 2015 Arctic Cat ZR 6000 RR + Video
Designed and manufactured by Arctic Cat, the C-TEC2 serves as Cats' engine of choice for its "130 hp" category models, which include trail, crossover and deep powder applications. To run clean, Cat engineers developed a dual stage semi-direct type injection system that allows the engine to provide strong drive-off, necessary for touring applications, as well as the stout midrange and free rolling top end you want from a sport sled as its pulls out of a corner or hits its stride across a long lake.
2016 Arctic Cat ZR 6000 El Tigre Chassis
The ProCross chassis is the basis for the El Tigre's excellent on-trail handling.
In addition to the unique and innovative engine, the 2016 El Tigre has an entirely new set up to maximize engine to track performance. You'll find a full complement of TEAM drive and driven clutch components. Admitting that it had issues with its own clutch components, Arctic Cat partnered with TEAM to develop a more durable and smoother shifting drive, the TEAM Rapid Reaction drive clutch. Durability is the key with the new design as it performs more consistently in the long term than the previous El Tigre design. Plus, the new TEAM design is rebuildable, which also means it can be tuned more readily than ever before. The use of a steel spider gives the TEAM clutch greater longevity and strength.
2016 Arctic Cat ZR 6000 El Tigre TEAM Drive Clutches
Synchronizing the Arctic-built C-TEC2 twin with the Cat-specific TEAM BOSS Rapid Reaction clutch system reduces lighter and improves overall durability.
While other companies utilize TEAM components on some of their performance sleds, Arctic Cat decided to synchronize its drivetrain with a TEAM system, adding a Cat-specific TEAM BOSS Rapid Reaction driven that is both lighter and more durable than the driven on the 2015 El Tigre. Since these changes result in a 20-degree reduction of under hood temperatures, belt life and overall clutch life are enhanced.
COMPARISON: Read our review of the 2016 Polaris 600 Indy SP
While that's all good to know, the bottom line for El Tigre 6000 riders is simply how does it perform on the trail? Very well, thank you. Understand that we get a bit jaded as during test evaluations we literally may jump from a 6000 El Tigre to an 8000 RR and the comparison from a 130-ish horsepower sled to one with 20 to 30 more horses can take a moment to assess. Having done that, we can easily state that the 6000 El Tigre was impressive with good drive away and impressive midrange if not exceptional top end. The El Tigre benefits from the knowledge that veteran Arctic Cat engineers acquired over the decades as true enthusiasts. Simply, Cat engineers demand certain performance from its different sled categories. The trail performance El Tigre's expectations must be set differently than a touring or mountain sled. Notably within the ZR line, you'll find the El Tigre blends Sno Pro and LXR characteristics to create its own unique identity.
2016 Arctic Cat ZR 6000 El Tigre Action Right
The 6000 El Tigre combines the best features of the Sno Pro with LXR.
It's this blending that we like about the El Tigre. Its suspensions are neither as stiffly sprung as a Sno Pro nor as soft as the LXR. What Cat manages to do with the El Tigre is create a compromised sled that isn't really compromised at all. The Sno Pro uses air adjustable Fox Float 3 shocks to keep hardcore bump bangers happy. But that can be too much stiffness for a predominantly groomed trail rider. By working with Fox on its new for 2016 QS3 lever-adjustable shock, Cat engineers provided a unique suspension solution for El Tigre riders. You have to try the QS3 to believe us, but it manages three very distinct settings that range from LXR-like supple to a medium nearly Sno Pro level and then up to a firm setting. You can change the ride setting with a gloved hand by switching the QS3's three-way lever. We really like this feature for adjusting the rear suspension's rear arm shock, which could be difficult to tune otherwise. The only thing better would be a remote lever that could be activated from the El Tigre's seat.
2016 Arctic Cat ZR 6000 El Tigre Fox QS3 Shock
The advantage of the Fox QS3 shock is readily demonstrated on the El Tigre as you can set three levels of ride by moving the lever through soft, medium and firm settings.
Other things we like about the El Tigre and what makes it our ZR 6000 of choice for everyday trail riding is its attention to the little things. As a performance rider with miles and years on us, we can't admit to be "wussy" about comfort. We want the "look" of the big bang rider, but we readily accept the nice-to-have features that abound on the El Tigre. As noted, the El Tigre shares LXR features and is essentially a ZR 6000 Limited model. Unlike the Limited that can be purchased with either a 129- or 137-inch track, the ZR 6000 El Tigre is only offered with the 129 track. And the Limited doesn't share heritage "Tigre" green and black styling.
COMPARISON: Read our review of the 2015 Ski-Doo Renegade Sport 600 ACE + Video
From an owner's standpoint, the El Tigre is a top choice. It is definitely trail ready with all the top Arctic Cat pieces like Arctic Race Suspension up front and that nifty Slide-Action rear rail. Add in distinctive QS3 shocks for ease of adjustability and you have sled that you can quickly tune for any section of trail or your mood. Feeling frisky? Move the lever to the firm setting. Want relaxed cruising? Dial it back. Like the feel of power out of a corner? Hit the throttle hard and feel the TEAM clutches synch with that all-Cat dual stage C-TEC2 two-stroker.
2016 Arctic Cat ZR 6000 El Tigre Action Front Right
The Arctic Cat 2016 El Tigre's heritage styling matches the bold black and green of the 1970s era original.
With its firm performance seating, 11-inch tall windshield, goggle holder, tunnel bag, electric start, race-bred braking and Sno Pro brake lever, how can you not like the 2016 El Tigre? Okay, maybe the 600cc engine category is too tame or you would like a four-stroke instead of a two-stroke? Relax, hit the reset button and talk with your Cat dealer about upgrading to the Yamaha power of the ZR 7000 El Tigre, or boosting with the two-stroke ZR 8000 El Tigre or turbo blast of the four-stroke 9000 El Tigre. For our money, we'll stick with the everyday ride-ability of the 6000 El Tigre. It's a very impressive sled with a proven heritage.
Read More Here:
2016 Arctic Cat ZR 6000 El Tigre 129 Review