Discussion Starter
·
#1
·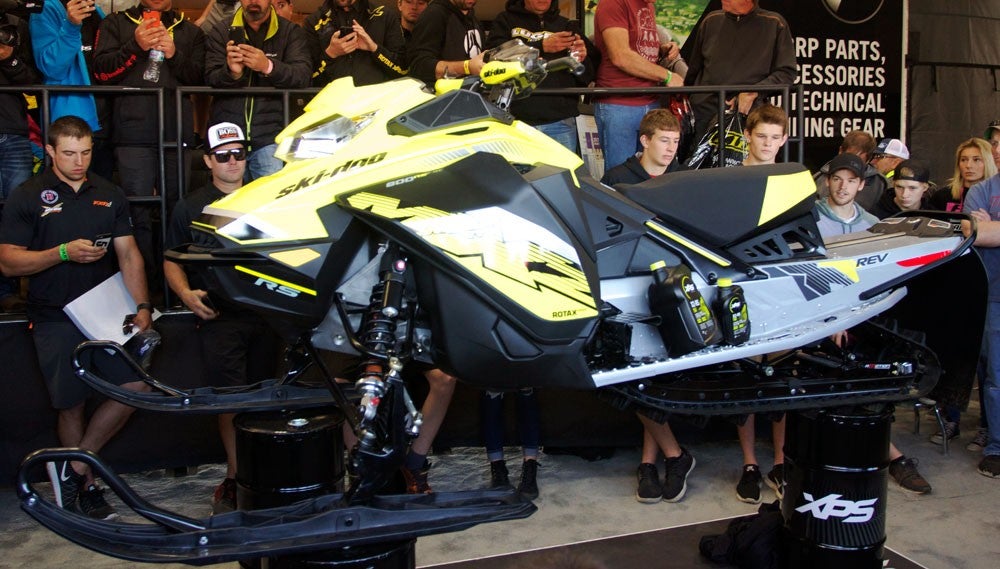 On September 9th, 2017 at 10:00 AM Central Time, Ski-Doo unveiled its all new RS race sled – the 2018 Ski-Doo MXZx 600RS E-TEC .
Steve Cowing, public relations manager for Ski-Doo, along with Carl Kuster, former snocross and hillcross racer, pulled the cover off the all new 2018 Ski-Doo MXZx 600RS E-TEC during the 51st annual Hay Days event.
"The only part on this sled that is the same as last year, is the track," says Cowing.
Spectators watched in silence as they were told about the new sled. The 2018 Ski-Doo MXZx 600RS front end appears Summit like with Summit plastics. Ski-Doo built the race sled on the Gen4 platform for superior rider ergonomics and handling in rough riding conditions.
2018 Ski-Doo MXZx 600RS E-TEC Plastic
The 2018 MXZx 600RS E-TEC features Summit plastic.
Engine
The all new, RS only, Rotax 600RS E-TEC engine is based on the strong 850 E-TEC introduced last year. More horsepower and extremely fast dynamic response was the word from Ski-Doo. Pushing the limits of the maximum 600cc limit, this new race motor comes in at 599.4cc. Other 850 E-TEC inspired goodies include:
E-TEC direct injection
Intake booster injectors
Shorter intake length
Double reed valves
New mono block and a new piston
Light weight exhaust system
Engine requires pre-mix fuel
2018 Ski-Doo MXZx 600RS E-TEC Engine
Perhaps the most exciting news was the new E-TEC engine is direct injected.
The fans were probably the most excited with Direct Injection (DI) for the race sled. Racers and mechanics alike were probably counting the hours they would save not adjusting carburetors.
The new motor has been completely reconfigured to fit in the REV Gen4 platform. With all this horsepower, Ski-Doo also felt its racers would need a new brake. The Brembo dual brake caliper has been improved and mated with a stainless steel rotor to deliver immediate, precise, consistent braking power, and is loaded with new pads.
Drivetrain
The drivetrain features new:
pDrive primary clutch with clickers
Secondary clutch with a TEAM Industries TSS-04
Chassis
2018 Ski-Doo MXZx 600RS E-TEC Race Fans
Race fans get and up close and personal look at the new 2018 Ski-Doo MXZx 600RS E-TEC.
The MXZx is in the all new REV Gen4 chassis with these new features:
Narrow design
Ergo Step side panels
Beveled Tunnel
MX inspired seat
New racing foot box
5 gallon race tank
To increase rider efficiency Ski-Doo introduced:
New taller spindles
Rack steering
New lightweight Pilot R2 skis
For durability and easy of service:
New tapered and tilted cooler-less, stand alone replaceable rear tunnel section
Short heat exchanger
Reinforced E and S modules
Suspension
2018 Ski-Doo MXZx 600RS E-TEC Front Suspension
The KYB PRO 40R shock will take the brunt of abuse during a race.
Ski-Doo says the RAS 3 suspension gives the MXZx ultra precise handling with 20% less effort so racers can choose the best line. Other suspension improvements include:
Race rMotion Rear Suspension
New 46mm KYB PRO center piggyback shock
New G4 motion ratio
Lighter Components throughout
New XPS X2-RS Racing Oil
To compliment the RS's all new pre-mix direct injection, E-Tec engine, Ski-Doo also introduces its X2-RS full synthetic oil. All racing snowmobiles experience extreme load conditions, at high RPMs, at extreme temperatures. This new full synthetic oil is designed with a higher viscosity base, using their unique to XPS additive package for all race engines, maximizing power and throttle response.
By reading these facts alone the MXZx stacks up to be a formidable opponent on the track. Now the ultimate test will come this year when racers pound it out on the track.