Discussion Starter
·
#1
·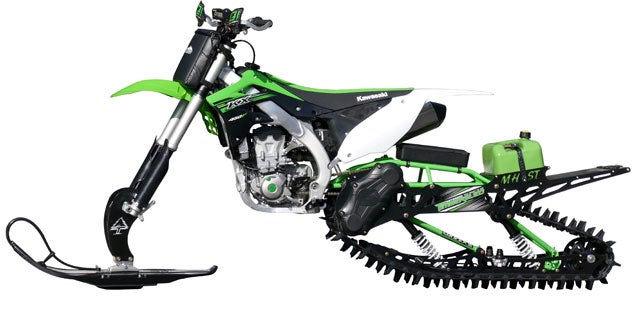 Arctic Cat's announcement of a snow bike at Hay Days this past September 12th came as a surprise to everyone gathered by the Cat display.
With its clever and brief showing of a snow bike, Arctic Cat created instant buzz across the Hay Days acreage and gained major play on the "snowmo-twitterverse." It was a brilliant move that will spark chatter every time the snow bike subject is raised. The snow bike surprise was cleverly staged and kept deliberately brief with little to no follow-up about the project coming from any of the assorted executives, which ranged from new Cat CEO Chris Metz to Snowmobile Division General Manager Brad Darling or lead Cat engineering staffers.
The snow bike remained covered as it was lifted from behind the Arctic Cat semi-trailer and hoisted into view atop the trailer, which was used as the display stage. It was uncovered, the engine fired up and a few words of announcement offered as to what it was. Then with the surprise announced to the gathering, the SVX 450 was quickly lowered, removed from view and immediately placed back under wraps.
Arctic Cat SVX Snow Bike Intro
Arctic Cat's announcement of the SVX snow bike at Hay Days was short, sweet and nearly out of sight as it was only briefly displayed atop the Cat trailer.
During the short snow bike announcement, Darling stated, "It's Arctic Cat's goal to provide a new riding experience to a category of snow lovers that want the lightest, most affordable vehicle for the mountain market."
He noted the suspension system on the SVX 450 snow vehicle was a joint project with Camso (formerly Camoplast) for the past three years.
Related: Polaris Acquires Snow-Bike Maker Timbersled
This brief showing of a potential future product at the well attended Hay Days "beginning of winter" event also says something about the new Arctic Cat management, led by Metz. Since coming to Cat in December 2014, he has created a very noticeable new and quite upbeat vibe at the company.
Boivin Explorer Track Kit
The Quebec-based Boivin brothers offer an innovative conversion kit that can prepare a dirt bike for running in snow or sand.
The snow bike announcement serves notice that things at Cat are changing. The company may or may not ever get the snow bike to market, our best guess from a cursory examination of the product suspects that it is very much a rough prototype. The engine's exhaust pipe looked far from finished and the rear suspension seemed too rough for production. But, with total focus on what Cat sees as a new untapped market for them and with what we interpret as top management support, getting into this specialty market could happen.
While snow bikes are hardly new to snowmobiling, the timing may be right for them. Sled sales hit a recent high at 150,000-plus units sold worldwide and nearly 110,000 sold in North America. The average age of snowmobilers is 44 years old and while many older veterans may be phasing out of the sport, there are younger ones coming in. That could definitely be seen at Hay Days.
Polaris Timbersled
Now a part of Polaris Industries, Timbersled has created a burgeoning snow bike make with kits designed to fit a variety of dirt bikes.
The obvious point about Cat's snow bike announcement lets its customers know that they will have an alternative to Polaris' Timbersled bikes. Of course, naysayers will state Cat's move is a continuation of copy cat responses to its northwestern Minnesota competitor. Polaris buys KLIM. Cat purchases MotorFist. Polaris has a headquarters in metropolitan Minneapolis. Cat announces a corporate headquarters move to downtown Minneapolis.
Related: Q&A With Timbersled's Allen Mangum
The Cat SVX 450 should be an interesting vehicle and its mechanical details remain subject to speculation. If the Cat product is, indeed, a standalone Arctic Cat model that is not designed as a track kit for existing dirt bikes, it will differ from the Polaris Timbersled and other design like the Explorer offering from the Boivin brothers, who introduced the Snow Hawk snow bike to the market in the 2001 and now list conversion kits for a variety of dirt bikes.
Boivin Explorer
The Boivin brothers followed up their original 2001Snow Hawk snow bike with the Explorer conversion kit for dirt bikes.
Unlike the former Boivin Snow Hawks, there will be no problem securing engines as Arctic Cat has its own single cylinder 450 four-stroke. Used in the Arctic Cat XC 450 sport ATV, the 450 H1 overhead cam, liquid-cooled single-cylinder engine is designed for smooth, consistent acceleration and a wide torque curve. It has electronic fuel injection and an efficient four-valve head. Now then, the question would be what transmission source would the Cat snow bike use? The existing ATV has a CVT with high/low gearing and reverse. Snow bike conversions retain the dirt bike motorcycle's gearbox. What will the Cat snow bike offer?
Arctic Cat 450 Engine
Speculation will run rampant about the promised SVX 450, but one power option in Cat's inventory is a single cylinder four-stroke used in the Arctic Cat XC 450 sport ATV. The 450 H1 is an overhead cam, liquid-cooled single-cylinder engine designed for smooth, consistent acceleration and a wide torque curve.
Is this really a strong enough niche market? When Polaris acquired Sandpoint, Idaho-based Timbersled Products Inc., Timbersled was portrayed as a leader in the "burgeoning snow bike industry." Polaris' chief executive Scott Wine stated at the time: "We are excited to add the Timbersled brand and team to Polaris' strong snowmobile business. Timbersled has created a compelling product and revolutionized the sport of snow biking, and we are excited to see what they can accomplish with access to Polaris' considerable engineering, manufacturing and distribution capabilities."
Related: From Dirt to Snow
All that not withstanding, Quebec-based A.D. Boivin not only developed the Snow Hawk, but created a racing circuit around it to help "sell" the product. Currently the former snow bike maker offers its own innovative track kit assemblies to convert dirt bikes to snow and sand usage.
The Chrysler Sno-Runner (later Sno-Rabbit) initiated by Chrysler Marine predated the Snow Hawk. Announced as a lightweight and inexpensive fun to ride alternative to full size snowmobiles, the Sno-Runner appeared in 1979 and continued until 1982, when the remaining unsold inventory was assigned to a liquidator and rebranded as the Sno-Rabbit.
Sno-Runner
The snow bike concept appeared in 1979 when Chrysler Marine introduced the Sno-Runner, a full production but underpowered, lightweight, low priced (US$900 MSRP) snow vehicle.
That was 36 years ago. The market may be ready to embrace a lightweight play snow bike. A Sno-Runner cost US$900 in 1979. The 2002 Snow Hawk carried a suggested retail price of US$8,699 and was claimed to weigh 350 pounds with a 12-inch by 121-inch rubber track. You can purchase a new Timbersled conversion for US$5,300. Based on a typical 450cc dirt bike, the finished "snow bike" conversion should weigh in at around 300 pounds on the low side. A mountain snowmobile like Polaris' 800 Pro-RMK 155, which retails for US$13,199, has a claimed weight of 408 pounds less fuel. Of course, powder sleds feature 800cc engines with more than 150 horsepower. But they also cost much more than a snow bike conversion.
Yamaha YZF450 Dirt Bike
Adding a "snow" conversion kit to a high performance dirt bike lets you extend your riding season for about a third the cost of buying a mountain snowmobile.
Right now the verdict is out on the size and viability of the snow bike marketplace. Timbersled and Boivin prove it exists. As it currently exists the snow bike market is, as Arctic Cat's Darling noted, a "western" thing but, according to Polaris' Wine, gaining in popularity. Would a major commitment from an existing snowmobile manufacturer or two enhance this niche market and ultimately lead to spreading the use of snow bikes to more populous snowmobiling areas in the Midwest and Ontario? That remains to be seen.
Read More Here:
The Snow Bike Revolution